How to get Involved?
We run weekly term time youth theatre classes for young people aged 5-18 years. To book a place on a free trial session please email benjamin.adams@rubiconleisure.co.uk with your childs name, age and which session they would like to attend, and we will get back to you ASAP.
| | | | |
| --- | --- | --- | --- |
| MONDAYS |   |   |   |
| Weekly Youth Theatre Sessions | 8-10 year olds | 4:30pm-5:30pm | £54 for 10 weeks |
| Weekly Youth Theatre Sessions | 10-13 year olds | 5:45pm-7:00pm | £68 for 10 weeks |
| Weekly Youth Theatre Sessions | 14-18 year olds | 7:15pm-8:30pm | £68 for 10 weeks |
| Rise and Shine | 5-7 year olds |  5:15pm-6:15pm | £54 for 10 weeks |
| On Stage |  8-18 year olds | 6:30-8:30pm |  £99 for 10 weeks |
Keep up to date with everything going on here at the youth theatre on our social media sites
Rise and Shine
5-8 year olds
Tuesdays 5:15-6:15pm
Costs per 10 week term £54.00 full price, £40.50 Active Redditch Card 25% discount, £27.00 Active Redditch Card 50%
These sessions focus on drama games and techniques, preparing its members to move onto the Out There and On Stage groups where they will be given the opportunity to audition for and take part in main stage shows. 
Weekly Drama Sessions

Palace Youth Theatre 'Out There' groups focus on core skills and learning in depth drama techniques. Out There sessions focus on various skills such as devising, script work, story telling, movement based drama and group work.  Not only does the core group prepare its participants for auditions and performance work but it also helps with communication skills and confidence. Out There also take part in community and outdoor performances for the general public.
SUMMER SCHOOL 2022
Our Summer schools are open to anyone aged 5-18 years old, whether they are a current member of PYT or not

Jungle Book Kids (5-10 Year Olds) and FAME Jr (10-18 Year Olds)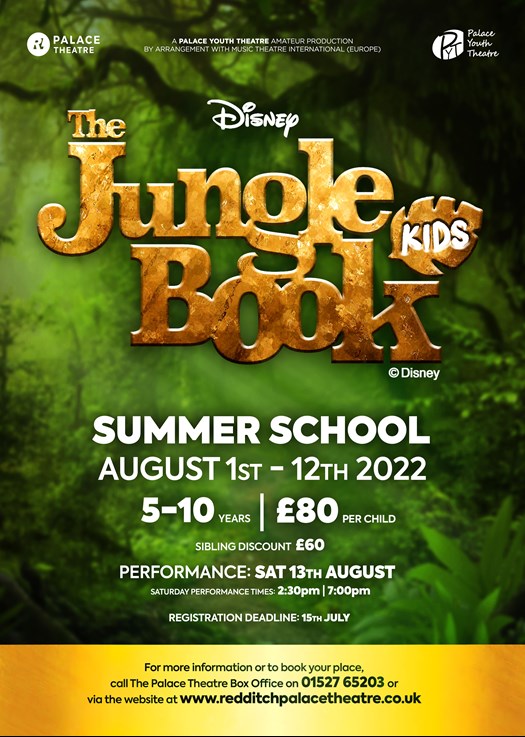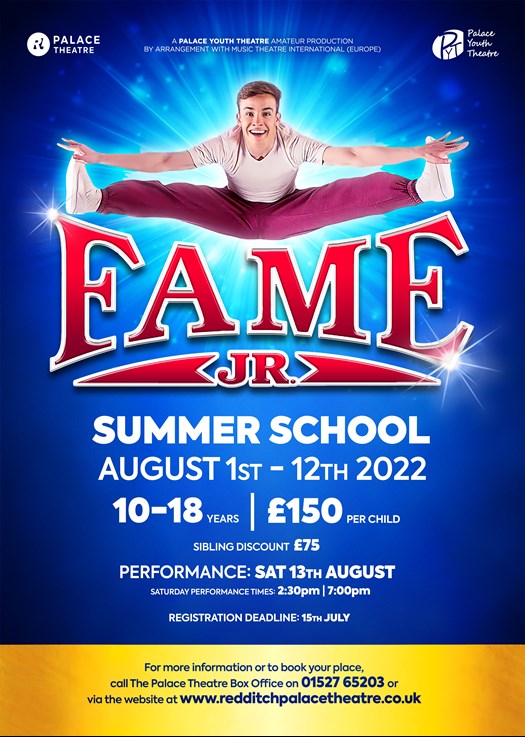 To book your place on to the summer school please call Box Office to pay a deposit and fill in some paperwork
Workshop style auditions will take place during the first day of workshops and parts will be given out.  Everyone who books onto the workshops will be given a role in the show and there is loads for chorus members to do so all of the cast will have loads to do over the rehearsal process and shows.
If you need any more info please email us on palaceyouththeatre@rubiconleisure.co.uk and we will get back to you as soon as possible
 Book your tickets for the show HERE